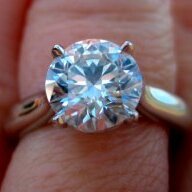 Joined

Apr 28, 2008
Messages

18
Hello,

I have been looking for a while for a 1.7 carat diamond within the $15-16k range, and in order to stay within that price range, it has to be a G/SI1 or H/VS1 or below.
This would be an upgrade, my current diamond is

WF

ACA

1.2 F/VS1.

I came upon this one from

whiteflash

and would very much like your opinion...
http://www.whiteflash.com/hearts_arrows/Whiteflash-ACA-cut-diamond-737784.htm
My only concern is the feather really. But I have called and they told me it is not reaching the surface, is closed and do not pose any durability issue. But still, I am a little hesitant and would love to have expert opinions...

What do you think, it is a good one, would H be too much of a difference with my current F.. should I buy it or just wait for a G/SI1 color diamond... Even though I am thinking since it is an

ACA

diamond, the difference between the G and H should not be that noticeable... I am not at all in a rush, so would rather wait than not make the right decision...

I put it on hold for 24h... so I have to make up my mind by then!

Any opininon would be appreciated!!!
Thank you!!!