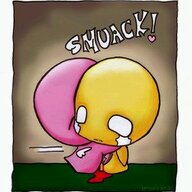 Joined

Aug 28, 2020
Messages

3
I don't know if I should post this here or somewhere else.
I am about to buy a Cartier LOVE ring pink gold on Kijiji which cost $1,100. Seller said it is 100% authentic, brand new with tag. It was a birthday gift so she didn't have the receipt but she said she has the certificate. I kept looking at the pictures she provided and today I found a few odd places and needed some opinion very badly. I have asked her to provide a picture of the certificate as well, still waiting for her to reply.
When I looked at the first picture and I found that the two circles are a little off. In the fourth picture, the hallmarks are very hard to see. I can see the copyright, Cartier, Au750 very easily; for the serial number, it looks like all numbers. And in the last picture, the red box fonts, I tried comparing it to other red boxes found online and am having a really hard time doing it.
I will be very grateful if anyone can provide any opinion/suggestion.
Thanks.