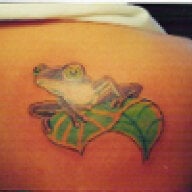 Joined

Dec 12, 2008
Messages

10,615
David is working on a pendant for my opal. I've told the story eleventy twelve times but I like the story so I'll tell it eleventy thirteen times.
When my mom was pregnant w/me, her step dad, that everyone called Doc, told her she was going to have a girl, she would be born on his birthday (10-29) and mom was to name her Hazel Dell. (??!!) Mom said um...yeah ok. So, she had me, on Grampa's birthday and totally did not name me Hazel Dell. She called grampa from the hospital and said Well Doc, two out of three isn't bad. And grampa said "What's wrong w/naming her Hazel Dell?" haha he knew. So that was always our thing, mine and grampa's. We didn't celebrate birthdays, but we acknowledged them. Every year on our birthday, I'd run into the house and he'd be sitting on the davenport (not a couch make no mistake) and he'd open his arms up wide and I'd launch myself at him and he'd say "Well how old are we today, Love?" Gramma and I were the only ones he called Love. Grampa died when I was 13, about a month before our birthday that year. Grampa and Gramma were huge lovers of gemstones, and grampa used to cut stones. I have a fire opal that grampa cut and set for gramma, that gramma gave me on my wedding day and I wore it down the aisle so grampa could be with me. Several years ago I was up visiting gramma (she lives right around the corner) and we were talking about gems. She got out the gem box and we played w/the stones she had left. There was an opal that I mentioned was pretty, pale lavender. It turned out to be one of the last stones grampa cut. They used to spend winters in Australia, and had made a friend who had an opal mine. This stone grampa mined and then cut himself, and Gramma gave it to me.
I've been fussing about for a long time trying to figure out what to do w/it. A PSer friend was kind enough to set it in a pendant for me that I loved...but it was just too big for me. DK has it currently and these are the pictures of where we are right now. He went ahead and made a wax for me to look at. He will do engraving around it, and then engrave something on the back about grampa...which I am at a loss for right now so I'll have to so some heart searching. Metal color tho...does anyone have any thoughts on this? David suggested either white or rose, and said yellow would work too...Its main body color is lavender, which makes me lean toward rose, but I wanted to get some thoughts from others as well so I can feel out all the options.