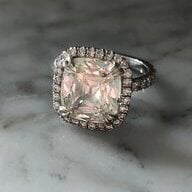 Joined

May 1, 2006
Messages

284
Ok so. I didn't set out to find this ring. She found ME. That's my story and I'm sticking to it. There's a jeweler near where I live who always has the MOST amazing estate pieces. Museum-quality stuff. I would pay him to just spend an afternoon going through his trays in his safe, his collection is that extensive.
So a few weeks ago I was dropping off a repair on a bracelet, and just on a whim popped over to see if he had anything new or special. And like a moth drawn to a blue electric zapper, I was immediately drawn to this ring. I've always been enamored of emerald cuts but my preferences were pretty specific: rectangle but a bit of a chubby rectangle. Slightly warm body color. Not too chunky - just a nice hall-of-mirrors effect without any dead zones. And I love half moon accent stones. And there she was. And here she is.
Specs:
GIA 5.51 J/VS2 emerald cut. No fluor.
~1ctw half moons (one of them has a tiny chip at the girdle - not significant enough IMO to want to go to the trouble of getting it recut).
~1.5ctw melee in the band. Platinum. Finger size 6-1/4.
Fun fact: my husband hasn't noticed yet. Let's see how this plays out