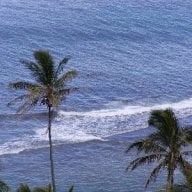 Joined

May 16, 2003
Messages

2,798
I''m just about to make a decision, and would like one last input from the "cut experts" out there.
I''ve been reading this site long enough to be convince that cut is what it is all about. I havn''t found a stone that completely meets the 1A standard in the 2.5ish size, but this one is close. It gets a 1.6 XXXVG on the Holloway cut advisor. I don''t have any pictures or scope results at this point. Is there anything I''m missing here? I''ll probably go look at it next week, but don''t really know what to look for in person.
2.52 E VS2
8.8x8.7x5.4
61.4 depth
57 table
35 (34.9 - 35) crown angle
40.8 (40.7 - 40.9) pavilion angle
.2 culet
1.5 - 2.1 (1.7 avg) medium girdle
Ex polish and symmetry
Hearts & Arrows
There are a couple of slightly smaller stones (2.25 - 2.3) that do meet the 1A specs in the same price range. Should I consider trading off the size for the slightly more perfect cut? (will it make a visible difference?)
thanks for the help -- this is a big decision!