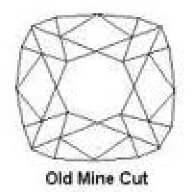 Joined

Feb 3, 2010
Messages

683
I can't believe it! It happened last Wednesday, 3 days before our anniversary so I was completely surprised.
Proposal story:
My dad had asked me the week before if I would like to go to my favorite museum in our area with him, my mom, sister, and niece the following Wednesday because our local public media station was celebrating their 50 year anniversary there and were doing a showing of Breakfast at Tiffany's since it was the movies 50 year anniversary also. Well I love going to that museum and Audrey Hepburn is my idol and Breakfast at Tiffany's is my favorite movie! I of course said yes and he told me to ask my boyfriend (now fiance!) if he wanted to go too and he said sure. Well, the day comes and when we got there an awesome band was playing, we got some drinks, and took cute pictures in the free photo booth. After the band finished, the CEO of the station got up on stage and thanked everyone for coming out. He said before the movie played they wanted to try something new and asked for a volunteer. A bunch of people raised their hands including my boyfriend. He got called on stage and at this point I was only thinking "what are they going to make him do?!" The man handed him the microphone and he started to talk about how he wasn't actually a volunteer and that the museum and the station volunteered to help him out with something very special that he had been planning. At this point I started to figure out what was happening and I was crying pretty hard lol. He talked about how he knew I loved the museum and how Audrey Hepburn was my idol so it was the perfect place to do this. He said that we had been together for 7 years and he wanted to spend the rest of his life with me (along with a ton of other ridiculously sweet things). He walked off stage and I stood up and walked toward him. He got down on one knee in front of around 250 people and asked me to marry him. After some champagne toasts we watched the movie and then called a bunch of my family. It was the most wonderful and perfect proposal I could have ever imagined.
Now, the ring details! He picked an Old Mine cut diamond and had it set in a gorgeous Scott Kay cushion halo setting from Jared. It is absolutely my dream ring!
Diamond specs:
.72 carat, VS2 clarity, J color (It looks VERY white in most lighting)
I don't have a good camera right now to take any pictures but I'll borrow my dad's sometime this week and post more pics. For now, I have a blurry phone picture to tie you guys over
.