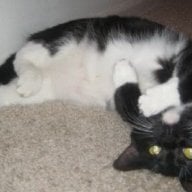 Joined

Nov 12, 2008
Messages

667
We just got on a family plan with AT&T (literally, two days ago.) Right when we signed up, I made a joke how on their wireless site, I could start stalking his phone calls. It''s the site we use to track minutes, pay bills, you know it goes.
So tonight, I was skimming
White Flash
''s website (what''s new) and they have their 877- number pretty well displayed.
My snooping urge hit...logged onto ATT totally expecting nothing (really, he can''t be that stupid, can he?) Yeah, um, at 9 am today, he called
Whiteflash
.
I just about got sick to my stomach - called my best friend and thank God she talked me into some sense - "it means nothing, it could just be an inquiry, do not let this fool you," etc. etc. I am much calmer now but at the same time, still freaking out - I mean, he is making progress of some sort! Sure, it could be just an inquiry, but it could also be post-purchase thing!!!
For the record, I "X"ed out of that tab instantly and won''t be getting on AT&T any more! Oh, and if this is how I react to a simple little phone call, I just about might have a total freak out when he really does it!