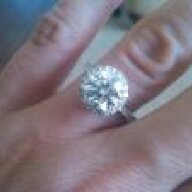 Joined

Nov 7, 2011
Messages

352
so about three weeks ago, I accidentally closed my finger (left pointer) in the car door. Can you say OUCH?! It throbbed for days. Right below my cuticle was all bruised and then a small bruise appeared under the nail but I figured, ok, at least I can cover that with nail polish. Well now the ENTIRE nail is lifting from the bottom and it is going to come completely off!!! Sorry, I know it is gross.
I am totally freaking out as I know someone who had her big toe run over by a shopping cart and it has never grown back. She actually wears a fake toenail press on thing if she wears sandals, flip flops, etc. What if this happens to my finger???
Not to mention, hoping to have something to show off on that hand sometime soon.....



Has this happened to anyone with good results?? How long does it take??