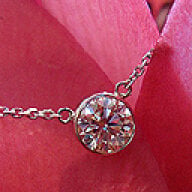 Joined

Oct 30, 2002
Messages

31,003
Okay so there are what? 11 days left til Xmas? Only about what? 7 shopping days?

I have hardly ANY presents for anyone.



This year has just been sooo uninspirational Xmas wise for me. I don't know why but I am really not in the mood!!! My new job is pretty busy and my workout schedule combined with job and Portia keeps me from getting home til like 7pm each night, when Greg gets home too. So we make dinner, hang out then go to bed! The last 2 weekends have been crazy booked with stuff and this one is no better AND I got sick a week ago and cannot kick this stupid cold so I am exhausted each night by about 9 pm.

I plan to do all my shopping online but MAN by now I typically have like 3/4 of my stuff done and wrapped under the tree. Tree this year? BARE underneath. I have a handful of gifts I bought a while ago, 3 big ones for Greg, my mom and sister, but that's IT. I still have a crapload of shopping to do and don't want to do it!! Every time I sit down to do it, I get distracted and go do something else. Our house is beautiful and decorated to the hilt but that's about it.

HELP! I also am at a total loss for the first time in years about what to get certain people!! Where has my creativity and imagination gone? Plus all I can think of is my b-bag waiting for me for Xmas morning. Distracted much? Every time I DO go into a store for some shopping, I come out with something for MYSELF. Hardly the Christmas spirit.

Anyone else experiencing this strange phenomenon?!?!?! I need to SNAP OUT OF IT and get to shopping like TODAY. I'm already butting up against the whole 'last day for ground shipping' deadlines...and do NOT want to have to pay 2 day shipping. ARGH.

Oh and we are hosting our friend group's Christmas party on sunday and I hadn't even done a thing for that til like yesterday when I sent out the email about what to bring and when to get here. We didn't even do gift exchange this year because I didn't want to deal with having to assign everyone names.

Anyway...WHEW I feel better now. Kinda. I'd feel WAY better if I had presents all under the tree rather than PROCRASTINATOR written across my forehead in rouille ink.