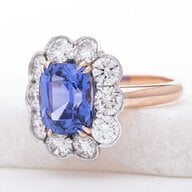 Joined

Jan 9, 2006
Messages

6,566
I CAN''T believe it. Mum and I had an appointment at a little local bridal salon today, just to see what she had and how much she would charge to alter/custom make something. Just starting today, she had a 60% off ''selected gowns only'' sale, about which I was unaware when making the booking. I said to mum that the selected gowns were probably the riff-raff that the lady has had for years and can''t sell. Boy was I wrong!! I showed her a few pictures of ones I like, one being Maggie Sottero''s Olympia, but i wanted it with more embellishments. She went straight to the ''sale'' rack and pulled one off that she thought looked similar. I always wanted a light/antique gold wedding dress, and adored the colour of this one. I tried it on and LOVED it. Like, I LOOOOOVED it!!! She got me to try on a few more but I kept asking to try the first one on again. It is a size 12 and I''m between an 8 and 10, so it needs a fair bit taken in, and I think the train needs shortening, but otherwise it''s DIVINE. Perfect amount of bling, and stunning colour. It is a lovely pale gold/ivory colour, and the split up the side opens to a darker shade of gold. It''s sprinkled with Swarovski crystals and is just YUMMY!! I''ve tried to take some pics but they just don''t capture the colour or the SPARKLE... a bit like trying to photograph diamonds!!! Anyway here goes!
Plus I got it at 60% off!!! WooHOOOOO!! I''m SO RAPT!!!!
And excuse the sunburn and lovely sweaty, non-made up face, it''s HOT here, and I really didn''t think I''d be taking photos of MY wedding dress today!!!