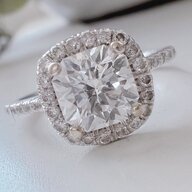 Joined

Nov 12, 2013
Messages

353
@Muluver
oooh I thought your current project involved Gisele but you have multiple. That's so exciting, can't wait to see how everything pans out.
Thank you for your insight on OWD versus Sako. So very helpful! I think I will move ahead and reach out to both but definitely having a better idea about both vendors based on what you know.
I'm definitely compromising on finger coverage going earth mined but it is what it is. You're right about the ratio of Marielle's being different. I even went so far as to try and calculate on the VB size the ratio of their center to side stones then realizing that without actual mm spread, it wouldn't be accurate. I think what can help me is that I prefer the side stones to actually be a bit smaller than the center. Not tiny, but I want to see a definite contrast. Hoping I can save more money in that aspect or funnel more of the funds towards the center stone. I'll make sure I sent images of ratios I like when I reach out to the vendors!