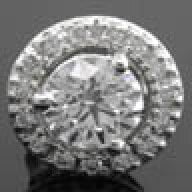 Joined

Jun 11, 2007
Messages

693
is it okay to wear a platinum spacer next to rose gold? which would get more wear and tear, the platinum spacer or the gold ring?

i know it''s not recommended to wear different metals next to each other but i have a gold band that i may occasionally want to wear with a platinum ring...so i thought i''d wear a spacer in between the two. however, the spacer is platinum so it leaves me with the same problem... but if it''s the spacer that''ll take the brunt of the wear and tear then i might be ok with that.

also, when talking about different/same metals rubbing against each other and getting worn, how long are we talking before damage is apparent? is it very slight and would take years or decades to get worn? or is it something that happens very quickly?