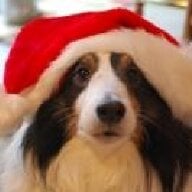 Joined

Nov 25, 2002
Messages

9,170
It''s been a busy holiday season, so I''m just now catching up on reporting a few "goodies" behind the scenes.......

My dearest friend.....my "sister" of choice.....turned 40 in November. It''s been a really tough year for her, and let me tell you
she was emphatically NOT looking forward to turning 40. LOL So, I wanted to find something to take the sting out of it
for her.
Ultimately, I wanted to get her a 40 pointer - but that was a bit out of budget. Her favorite number is 33, so VOILA...
this .335 J, VS2 stone from
WF
. Now, she has something that will be "in the thirties" all the time.

It''s on a 16-inch chain, and I''m thinking I may end up sending it to add another inch - presently it flips a bit more than
I''d like, but that may just be a function of the balance of this particular setting and not of the length.
. Depth %: 61.7
. Table %: 55.3
. Crown Angle: 34.8
. Pavilion Angle: 40.7
. Measurements: 4.45-4.48X2.75
Eye candy will now commence.........