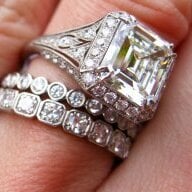 Joined

Jun 29, 2006
Messages

1,155
Hi Ladies! I haven''t posted much of our wedding stuff on here so I thought I would go ahead. I hope you like it. So I created a collage of our ideas and what we''ve done so far. I''ve purchased my dress and we''ve already designed the wedding invites and announcements.
For a background: we are getting married in Maui, HI and our total number of guests (including us) is 42. We have not picked out bridesmaids dresses yet, what do you think of these in the collage? I tried to change the color on one to make it look more like what I was thinking. (beige and white) I also like the eyelet too and you can actually get the cotten eyelet in one color and the liner a different color. Even though the eyelet is subtle, is it too much w/ my dress?
Our colors are: beige/sand, white, and kind of a mix between celedon/lime green. Our flower is the Cymbidium orchid.
For the tables at the reception (its going to be at a restaurant on the terrace which is directly on the beach) we were thinking white linens with scattering of white and green orchids, then some simple clear glass votive holders w/ white votives. Our cakes will also be center pieces. We are thinking of doing small 6" diameter cakes about 4" high and each cake will be for 4 people so we will have approx 11 cakes scattered down the tables. They will probably be simple rounds w/ yummy tropical fillings (like mango or papaya or something) with white ganache and some simple cymbidium orchids laying on top.
Oh and the ceremony itself will be simply decorated. Just loose green and white orchids tossed down the aisle w/ white chairs. The backdrop will be palm trees and ocean. The ground is grass. The orchids are actually really cheap! I''m super excited about that. I found a great website where I can get 250 orchids (flower head only) for $27.00!!! How many do you think I''m going to need though to do an aisle?
I would love all of your imput!!!!

Enjoy!