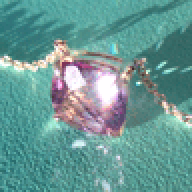 Joined

Mar 25, 2008
Messages

5,070
So I was talking to my Mom on the phone and my Dad found a safety box in the ceiling of their laundry room. My parents opened it up and inside among other things are some very old jewelry pieces!!! At this time all I can remember is an old 14k gold ring with rubies and pearls from 1881!!!

Some other stuff with rubies and a ''supposed'' diamond!!!!!!!!!


I was cracking up because they were both pretty wound up about this box and I was trying to explain how to measure the ''supposed'' diamond and they weren''t understanding me haha!


I''ll have to see it for myself. She said its pretty big but to her...pretty big is not what I think is pretty big. I just don''t know if its all costume jewelry or the real thing!! They think it looks real but don''t know much about jewelry.
How awesome would it be if this diamond was real???!?!!!

Oh my gosh this is such exciting news to a stressful couple of weeks!
Oh, and just so you know....my parents bought this house 11 years ago. It used to belong to its original owners which was an elderly couple. He had passed away and she ended up in a nursing home and past away as well. They had no children.