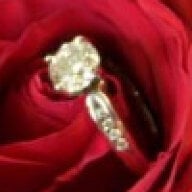 Joined

Apr 28, 2008
Messages

11,676
Hi friends,
Short story is: my Dad wants to buy my Mom a diamond for their anniversary. He proposed with a chip of a diamond that she doesn't wear and hasn't worn in forever. Instead she wears as her e-ring a 3 carat sapphire which is gorgeous! Dad has it in his head that he wants to buy Mom a diamond now, even though she's never expressed a desire for one and seems completely happy with her huge sapphire.
So my Dad e-mails me and asks me for help in buying a diamond. I explain to him that for the size he wants, he will have to spend between $12,000 - $15,000. Dad faints in shock
. Not knowing a thing about diamonds, he says he thought he could get a big diamond for $1,000.

I burst into hysterical laughter (not really) but explain to him that is definitely not the case. He then mentions that he's seen commercials for The Jewelry Exchange where you can get a 1 carat solitaire for $4,000. Of course, what he doesn't know is that it will be EGL or IGI certed and it will be fair cut at best probably. Ooh boy, I have no idea what to say to him now.
Help please! How can I educate him without it being too much and his eyes glazing over? He literally knows nothing about diamonds, labs, cut, etc. I don't want him to buy some junk stone just because it's affordable, just because he thinks he's getting a good deal. It really seems like he thinks the emphasis on good cut is overkill and that it's not a necessity. He thinks spending $12,000 on a stone is insane. Maybe I should just talk him out of buying a diamond all together. Should I send him the link to PS or would a non-diamond/jewelry person not really get anything out of it?
Thanks...