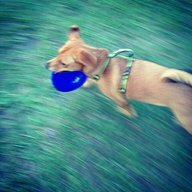 Joined

Apr 15, 2016
Messages

15
Hello Pricescope,
I've spent quite a bit of time reading through the forums, and I've learned a lot from the endless supply of knowledge. However, I'm feeling rather overwhelmed now that my boyfriend and I are in the financial position to purchase a stone. So far we've decided that we would like to purchase an OEC/Transitional cut and have it set in the Love Affair Diamond/CvB "Jovyn" solitaire.
I was hoping that the community could advise me on the following stone. It falls within our budget ($8,000), but the size is larger than I thought we'd be able to afford. I really love the appearance pastel checkerboard, but I have some concerns about the cut and clarity.
The stone is a 1.94 Transitional M that measures 8.26 x 8.21 x 4.69mm (56.9% depth, 60.6% table). Correct me if I'm wrong, but it seems as through the stone is a little shallow. Should I be concerned about it having a fish-eye effect? Would a shallow cut affect light return? If so, are the arrows in the first through photos leaking light? When I contact the vendor about this stone are there specific questions I should be asking?
The AGS report lists the stone as a VS2, and the graph shows a small chip and an indented natural near the girdle. Again, are there certain questions that I should be asking the vendor? Would it be worth looking into having the chip polished out? I personally can't see a chip in any of the photos, and I think the two inclusions are spread out enough to not be an issue while setting.
I hope it's okay to link to the vendor's photo gallery --
https://loveaffairdiamonds.smugmug.com/Loose-Vintage-and-Antique-Diam/1X92ct-Transitional-Cut-Diamond-/i-25MhZ9q
AGS report --
http://www.agslab.com/pdf_sync_reports/104079579002-PDQRK.PDF
Any advise would be greatly appreciated. Now that we're ready to purchase a stone, I'm afraid to miss out on a great stone, but I'm also afraid to take the leap. It's a huge purchase for us, so I keep thinking that it might be best to wait and see what comes up between now and the Vegas Antique show. Thanks in advance for taking the time to read this.