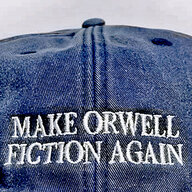 Joined

Apr 30, 2005
Messages

32,299
I'll tell ya.
If I got near one of these special snowflakes
I'd reach for my concealed heat gun.

Here is a small snip ...
"University dining halls aren't exactly famous for serving gourmet dishes, but Oberlin students say their meals aren't merely bad—they are racially inauthentic, and thus, a form of microaggression.

It's one thing to quietly gripe about the quality of dorm food (students have likely been doing that for centuries). It's quite another to accuse the dining room staff of stealing from Asian culture because they didn't prepare the General Tso's chicken with the correct sauce."
The
rest
of the story:
http://www.thedailybeast.com/articles/2015/12/20/oberlin-students-cafeteria-food-is-racist.html