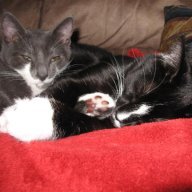 Joined

Aug 2, 2007
Messages

297
I have been seriously considering going back to school and entering the nursing field, but wanted some opinions from PS nurses (or anyone who has considered the career). Just a little back ground, I graduated from college in 2006 with a degree in advertising and PR. I worked in real estate for 2 years (market plummited) and am now working 2 part time jobs to make ends meet while constantly searching for my next career.

I am such a people person and love to help people and make them feel good. One thing that I have always felt like I am missing in my jobs is passion... I never felt passionate about what I am doing. I just want to make sure that I have the drive to be a nurse. The thought that nurses are always in demand is a positive, but not the reason that I am considering this career.

What made you go into nursing? What kind of a person does it take? Is the course work extremely hard? What area of nursing are you currently working in? Any advice or websites to help influence my decision? Did you go to a community college or a unversity (I am considering going to a community college).

I have always enjoyed school and the sciences. My FI has been great duing my time of unemployment/working minimum wage and he is supportive of me going back to school full time and only working part time. He has been so wonderful and I can imagine he would be great as I was going through school.

Thanks in advance for your support and advice.