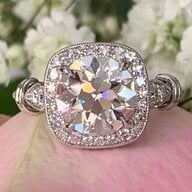 Joined

Jan 11, 2006
Messages

58,472
This is somewhat time sensitive, but I found a site the other day called onekingslane dot com. You have to register, but they have very high end, designer merchandise at a discount. They run 5 or 6 new sales a day and they last a few days. You do have to register to get the sale info. New sales start daily at 11am pacific time.

They currently have a sale running through Sunday of Momeni nursery and children's rugs. They are beautiful! I bought a round pink shag one for my daughter's nursery, but they have some beautiful print ones for the nursery and some other adorable ones especially for little boys' rooms! Prices were below discount prices I could find on the internet.

Also, they are starting a sale tomorrow (9/11) on Tourance baby blankets, and they are beautiful, too! (You don't get to see the full selection until the day of the sale, but I looked at the Tourance site to see some others.)

I went on the site to buy home accessories, and I have found that some items sell out fast. And that may be because of limited quantities. Some artwork and accessories are one of a kind. But I thought that it was just the kind of site that PS members would love, because it is high end stuff at great prices (mostly).