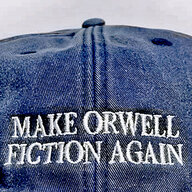 Joined

Apr 30, 2005
Messages

32,500
How thick is the skin of your sense of humor?
Don't know?
This just might be the ultimate test ...
It made even
Kenny
squirm
before laughing.
Don't click on this if you are drinking coffee, or are fragile.
Many will find this woman, who calls her blog 'Another Angry Woman', shocking and disgusting. Scroll down and read the comments.
Not only has she
done
something shocking, she uses shocking words.
I really struggled with whether to post this, but ...
It does have humorous news-of-the-weird value, and a smidgen of scientific content.
You know who you are
, and you know to not click on a Kenny-link that made even Kenny squirm.
Hey, at least she didn't use her toe nail fungus.
Look on the bright side; we all want to save the planet.
We all should be looking for new ways to recycle, right?
https://stavvers.wordpress.com/2015/11/23/im-making-sourdough-with-my-vaginal-yeast/