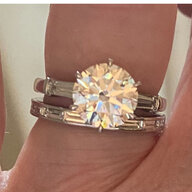 Joined

Mar 31, 2018
Messages

10,702
Hey there everyone!

@Austina

, very exciting that construction on the house is underway. Too bad about the stairs but sometimes these things just can't be helped. Wow, fantastic job on the driveway; what a difference! Such a sweet pic of Bertie, and how nice Adam and Kim went on vacation. Glad to read Colin is doing well after his surgery but so sorry about the bleeding. Stressful and I'm sure you're both relieved it's over. Congrats to Adam on his new car, how fun.

@mrs-b

, love your garden, beautiful blooms...and your veranda is lovely and inviting. Fantastic news that you got good results on your tests and you're good for the next two years. I'm sorry David is still not doing well, it's frustrating and scary not to have a diagnosis. It's good he's visiting, and getting a chance to rest and relax. So nice Eleanor and Nathaniel are coming too, and can spend your birthday with you. Your plans sound so fun and I'm sure you'll all have a great time. Can't wait to see your new setting.

@canuk-gal

, congrats on being fully vaccinated but sorry you felt faint afterwards. So nice of the young guy to help. Glad to see you're getting lots of cycling in. Yum to your trip to the organic market, and I love bruschetta. I had to refer to your post 2 times to get that spelling right LOL.

@missy

, what a sweet pic of Sasha and I'm glad you've been seeing Snowflake. The pic of all four cats together is really cute. And Archie is gorgeous and he's growing so fast. Sounds like there's a good chance Greg will be able to work from home for the foreseeable future and that's great. Glad to see you got some encouraging news from the rhumatologist and I hope the bone specialist can provide some helpful additional info for you.

@MamaBee

, good luck with finding the cookies; my local bakery usually carries those kinds, maybe check out a few in your area? Your dh sounds just like mine when it comes to presents. I know you are a very busy lady but I hope you give yourself a break whenever you can. It's very nice that you're taking your mom on an outing, it will be good for her and I'm sure she'll enjoy it. Any word on your asscher reset?

@marcy

, sorry to read that Marty is under the weather and I hope he's feeling better. It's a shame about your flowers but I'm glad a few are hanging in there. Sounds like you had a good weekend and I hope your week at work is going well so far.

@bling_dream19

, I fully support the concept of multiple wedding sets LOL. It's fun to switch things up. Your mother's bracelet is beautiful. Love pearls, so elegant and classic. I'm glad to hear your mother is slowly but surely making progress and I send her lots of healing thoughts. And glad to read that you are doing well, feeling positive, and enjoying your amazing collection.

I had a great visit with my nephew and his family. It was so nice to see them and now that we're all vaccinated I'll be visiting more often. Also met my friend for lunch on Saturday. I've been doing a lot of gallivanting as my father used to say haha.

We'll be heading back to SC next week and spending about 10 days there. In the meantime I'm going to try to follow Austina's lead and do some clearing out around this house. Wish me luck lol.

Take care all!
@junebug
I'm happy you had a nice visit with your nephew and family. The first time I went back into my son and daughter's house..I was kind of disoriented. It felt a little strange. Then five minutes later it was like Covid never happened…Of course, we know it's still very much here..but being in the house with family was just so wonderful..I could forget about it for a little while.
I found the cookies! I went on Nextdoor to ask for help to find them. I wasn't having much luck. We have them around here during the holiday season..but not now. I finally found them after someone told me she knew where I could find them.
I'm so excited about your new ring! I can't wait for you to get it!! You must be beside yourself.
@Austina
is motivating me too. I've been ruthless..but it does hurt donating things that are expensive. Once I drive away I feel a load off…literally…haha They run up to my car when I pull up at Goodwill!

I haven't heard the word galavanting in a long time…I have to use it now..haha