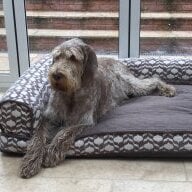 Joined

Feb 24, 2017
Messages

4,351
Hello lovelies
Oh my goodness
@canuk-gal
how is it even possible to be that cold, brrrrrrr ?
I'm so sorry your grandmother was in the hospital again
@Scandinavian
, I hope she's doing better today. Your scenery is beautiful and I hope the house is nearly all finished and ready for you to enjoy. You need something positive to look forward to.
I hope the drops for your hoops turn out to be perfect
@Mamabean
, who'd have thought it'd be so difficult to find them, there's an obvious gap in the market! I hope TG hasn't left you exhausted and you're getting all geared up for Christmas.
Wow your weather is completely different to ours this weekend
@AV_
, it's been absolutely freezing here, practically arctic!
I'm sorry it was such a faff for you at the vets
@missy
, not what you needed when you're dealing with so much already. Oh dear that it wasn't all friends together for the kitties, but hopefully in time, they'll all get used to each other. Beautiful autumn foliage on your very chilly ride, all the leaves are off our trees here now, so no more clearing up for Colin.
Love your rose gold tree
@Jimmianne
, it's so pretty, and Issy is such a good girl staying in her seatbelt. I hope you'll be able to get your cataract taken care of quickly and normal vision will be resumed.
Yay Mrs Muscles
@marcy
you're really pumping the iron
That Macanroni is the bees knees

Sounds like you've got everything under control and ticking things off your Christmas to do list.
It's fun buying things for the little ones
@Calliecake
, it gets so much more difficult the older they get, there are so many lovely things in the shops these days, so much more choice than when we were little. The Downton tour isn't until April but you have to book way in advance as they only have the house open for a set time. We're looking forward to seeing it, and the bonus is that it's not too far from where we live.
How's your brother
@junebug17
, is he feeling any better? Sounds like a good plan to head to SC for some R&R after Christmas.
It's been freezing here this weekend, too cold to go out walking so we've just been getting on with things in the house and getting ready for Thursday. I'll be getting all the laundry done over the next 2 days, and have my cut and colour on Wednesday, then I need to do my manicure and pedicure so I'm all set.
Spoke to Shirley yesterday and managed to keep steering the conversation away from anything negative, but it's hard work and quite draining.
I'm living vicariously through other people's trees and decorations, as our house is completely devoid of anything Christmassy this year

Kim wants to get a tree, so we've said we'll go to Costco when we get back from the cruise, Adam is being Mr Grinch, but I'm sure we'll all be able to persuade him
Hoping all is well in NIRDIland