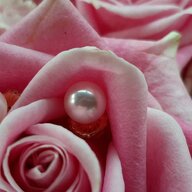 Joined

Feb 21, 2019
Messages

1,537
@missy

, hopefully these home-made toys will hold up to Oliver - and maybe the cat nip will quiet him down a bit too. I'm hoping he'll calm down once he has the run of the house again. And I hope you and Greg had a good ride if you ended up venturing out.

@Mamabean

, glad you had a fun day with Jackson. I saw that ring on IG and was so attracted to it! It's really pretty and I can't wait to see it on your hand. I bought some cheap crystal drops for my hoops and I regret it now. I'm sure they're going to look cheap to match the price LOL. I really want genuine gemstones; talk about an impulse purchase, ugh.

@marcy

, you were definitely on the go today. Sorry to hear you're expecting more snow. A night out at the movies sounds like fun and I hope you and Marty enjoyed it. And I'm glad you're feeling a little better. <3

@Scandinavian

, what beautiful pictures! The snow looks so pretty and your furbabies really seem to love it.

@AV_

, I'm glad you're enjoying a lull in your work and are getting some quiet time. Here's hoping the rain is finally ending. Best wishes for next week and I hope everything goes smoothly and you have safe travels.

@bling_dream19

, I don't know much about boots but I think your new SW's look great on you!

@canuk-gal

, strolling through Tiffany's sounds so enjoyable...I have always been in love with the Tiffany Soleste.

@Austina

, your gifts for Kim sound lovely. Oh no to Colin missing his turkey dinner lol...ah well, he'll still have a great time. Good luck with the preparation for your trip. Packing is fun because it means you're going on vacation but it can be stressful too.

Thank you all for your caring comments about my brother's insomnia...he's been struggling with this for years and nothing really seems to help. I ended up not going to his place this week but will try for Monday.

Not much to report...dh had to go to his office in Philadelphia today so I went along to keep him company. We stopped on our way home for a light dinner and that's about it. DS is stopping by tomorrow for dinner and I'm looking forward to it. I feel like I haven't seen him in a while.

Wishing everyone a great day tomorrow!
Thanks junebug! Thinking about your brother. I hope you're doing well.