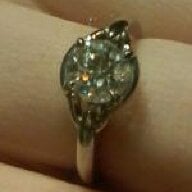 Joined

Aug 31, 2009
Messages

1,199
I went to Kleinfeld today. I live in New York and had been to five other salons, and finally gave in and went to the mothership. I was worried about it being snooty and out of my price range, and I was worried about being the wrong kind of bride, since I'm having a backyard wedding and I'm not into anything sparkly (besides rings!) or particularly luxe.
Well, I had an amazing time. My consultants were SO nice and completely got me. I tried on probably ten dresses and by the time I got to the one I bought, had amassed an amazing (and ridiculously expensive) headband and a mauve ribbon belt that I was using with every dress. There was one Alita Graham I really liked, and thought "I could get married in this" about, but then I put on the Alita Graham below... and that was it. I just kept saying over and over "it's so pretty!". It will fit perfectly in my aunt's yard and I think FI will love it. I felt so comfortable and so pretty in it... and then I kept petting it and referring to it as "she"!
And the best part: it was a sample and fit like a glove. Someone had ordered it and then not wanted it when it came in, so I ended up with 33% off and it's basically never been worn - it was pristine. I could
not
have afforded it otherwise, and it will save me on alterations, since hopefully now all I'll need is a bustle and hemming. I sent it to my mother's house out of state to cut down on the chances that FI will see it or one of my kitties will shred it. And to save on sales tax

.
The top is pleated lace and the bottom is lace with these fringy roses sewn on top of it - I don't really know how to describe it. I'll probably have my sister make me an ivory or champagne belt, instead of the mauve, but I'm totally going to have to find a cheapy knockoff headband, because I love it.
Pics! Excuse my amazing face blocking out. Skilled, no?