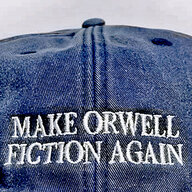 Joined

Apr 30, 2005
Messages

32,185
This looks just like a real apple store.
http://www.appleinsider.com/articles/11/07/20/chinese_counterfeiting_extends_to_full_blown_fake_apple_retail_stores.html
Chinese counterfeiting extends to full-blown fake Apple retail stores
By Josh Ong
Published: 01:30 AM EST
Extremely detailed knock-off Apple retail stores, complete with blue t-shirt-wearing employees claiming to work for the company, have been discovered in China.
According to the blog BirdAbroad (via ifoAppleStore), several counterfeit Apple stores have popped up in Kunming, China. One such location featured a winding staircase and employees in t-shirts with Apple logos and name tags.
"The name tags around the necks of the friendly salespeople didn't actually have names on them – just an Apple logo and the anonymous designation "Staff,"" the report read.
The author called the store "the best ripoff store" she had ever seen, though there were several giveaways, such as the poor quality of the staircase and a sub-par paint job. Also, the stores do not appear to have upgraded to Apple's Retail 2.0 layout that uses iPads as "smart signs."
According to her, the employees at the store "all genuinely think they work for Apple." After store security guards and employees prohibited her from taking photos, the author hinted that she and her husband were "two American Apple employees visiting China and checking out the local stores" and were then allowed to photograph the store.
Several of the pop-up stores were located within blocks of each other in Kunming, including one "Apple Stoer" location.
Though Apple products are frequently counterfeited in China, it is rare that copyists will pay enough attention to detail to so closely copy the company's retail store and business model.
The Cupertino, Calif., iPhone maker revealed on Tuesday that sales in Greater China $3.8 billion in the June quarter, a whopping six-fold increase from a year ago. Apple's four official retail stores in mainland China are the company's highest traffic and highest grossing locations.
The company announced plans last February to open 25 retail stores in China over the next couple years in order to keep up with growing demand in the world's most populous nation. Hong Kong will receive its first Apple Store during the September quarter, while two locations in Chengdu are rumored to be in the works.
Apple plans to build 30 new retail locations during the fourth quarter of fiscal 2011. The company's retail business brought in a total of $3.5 billion in revenues last quarter.