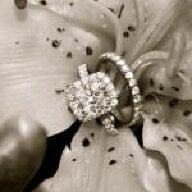 Joined

Mar 13, 2011
Messages

470
I also put this in SMTB, but I think you all might be able to give me some advice. My 93 year old MIL gave me these earrings. They belonged to her mother who had relatives in the jewelry business, so they are at least 150 years old and I love them.
My dilemma is that I'm afraid to wear them because the catch is very tiny and feels "soft" when I put them on. (I also have to put them on from the back of my ear, which is awkward, but doable)
I would like to have them checked over, but don't want them sent out anywhere b/c I don't want them lost or sent to someone who is not reputable. There is a jeweler nearby that I think does their own benchwork. They are reputable. Do you think it's OK to leave them there??
Here's a video:
Nonna's earrings