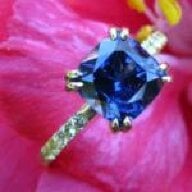 Joined

Sep 3, 2009
Messages

7,768
As in, 100% cotton denim, NO lycra, spandex, and their ill-designed cousins? I just threw out a perfectly good pair of Levis because I'm sick & tired of having them stretch out -- 2 hrs after taking them out of the dryer, I'm hauling the darn things up every 15 minutes. I HATE STRETCH JEANS!
Does anyone know if they're made in 100% cotton anymore, anywhere? This last pair had 2% lycra but it was enough for them to drive me crazy! Help!!
Thanks for letting me rant, too. It felt good!
--- Laurie