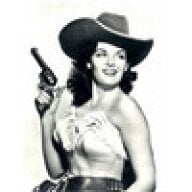 Joined

Feb 20, 2008
Messages

1,793
This is the super short condensed version...names have been changed to protect the innocent and not so innocent.

I have comaids of honor because one of my maids of honor (Veronica) has been a "best friend" of mine for 17 years, but we have sort of grown our separate ways. We live in the same city and hang out with the same social circle, but she has been nonsupportive and pretty much non existent throughout my engagement. She is a very, very bitter girl and has been full on drama for the last 5 years or so. She is single and bitter about that, and I get the feeling she isn''t happy that I''m happy. Maid of Honor #2 (Nicole) has taken up her slack and has been the most amazing support ever.

We are trying to finalize a date for my bachelorette party. I want June 5/6, which are a Friday and Saturday. There are 14 girls invited to come with me out of town to go to a day spa, go gambling and just go out and have fun at some bars and clubs. Mind you, Nicole has reached out to Veronica to tell her that we need to finalize a date, and Veronica has never responded. Nicole threw this date out to all of my friends and the other bridesmaids and it works with everyone. We were all pumped and ready to call and book hotels. My fiance is having his bachelor party the same weekend, so it''s really working out. This date works with all of my friends and bmaids....except for Veronica (non existent MOH). She told me and Nicole that she can''t make that date because she has a meeting on the Tuesday after that weekend. Keep in mind this is 2 months away, and if it were me, I would plan accordingly and do what works best with everyone else''s schedules. She suggested an alternative date later in June. This date also happens to work for everyone, but it would mean that my fiance and I have them on separate weekends. My absolute preference is June 5/6.

My question is: Is it bridezilla of me to have it on June 5/6? Veronica made the comment that she "might possibly be able to drive out there for Saturday night only". So she could technically make it. If I switch the weekend, the only reason I''d be doing so is to appease her. If it were any of my other friends, I would do it in a heartbeat. But with her, it''s a manipulative tactic. She came out for 20 minutes the night I got engaged and we all went out and celebrated. She didn''t come to one of my showers, and never told me she wasn''t coming...I found out from the shower host. She has been very ungracious and has pitched a fit at so many things about my wedding and I have had it!

What do I do? Change the date and appease her?