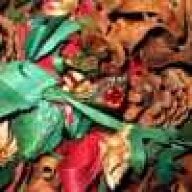 Joined

Jan 11, 2006
Messages

2,876
...dilemma here.
We live in Los Angeles, but the wedding is in Massachusetts, so only a few of our friends from California are going to it. However, we are having a very informal reception for 60-80 here about a month afterward. Two of my friends want to throw me a party of some kind BEFORE the wedding. I originally didn''t plan to bother doing something like that, and I know I should be thrilled about this, but there are some issues.

1)I don''t want to call it a wedding shower because not everyone will be invited to the actual wedding (but they will all be invited to the informal reception). I don''t want people to feel like they are expected to bring gifts.

2) I don''t want to call it a bachelorette party because, well, ick.

3) I think it might be nice to make it coed. The wedding is about us, why shouldn''t the party be?

4) The friends who want to throw it are both in somewhat restricted financial situations-one is due to have her first baby in a month, the other is just getting back on her feet after a long period of unemployment. I don''t want them to spend a ton of money.

Anyone have a similar situation? What would you call it? Would you do it coed (would bump the guest list from 15ish to 30ish)? Any ideas for unusual, fun, and inexpensive stuff to do? I''ve thought of stuff like going camping in Joshua Tree, the Sierras, etc., or on the other end, of the spectrum, some kind of spa day (although, $$$). If you were invited to something that wasn''t called a bridal shower or a bachelorette party, but was clearly a pre-wedding send-off, would you feel obligated to bring gifts?