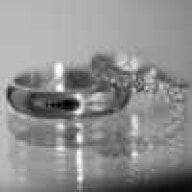 Joined

Mar 18, 2008
Messages

909
so, I don''t like to think of myself as a bride-y bride, but obviously we all have our moments, right?

because of the financial climate, I''ve told my mother and one of my best friends (in my bridal party) that I don''t feel comfortable having a shower. People would feel obligated to give gifts, to travel, and to throw the darn thing for me (and there would be quite a large guest list), and I just know how tight things are, and how hard it is for everyone to afford these things.

this is where the bride-y stuff comes in though...and where I need you folks to tell me to just cut it out...I''m just sad because I''ve been so so many showers for friends and family and I''ve always loved that feeling of girliness and celebrating and all that--and even meeting much of my FI''s family, whom I''ve never been introduced to...so it makes me sad that I won''t have that prior to the wedding.

now, I am SOOO lucky--I have a great guy, and I''m starting my career...and my parents are paying for more than 75% of my wedding, and they''re throwing the rehearsal dinner, so I definitely don''t want my mother to pay for yet another expensive thing like this. but my FI''s parents don''t really care much for weddings and don''t have any money...and my whole bridal party is feeling the pinch, so I just wanted everyone to know that I don''t expect anything and that they shouldn''t feel obligated to throw yet another party for me--I just don''t need it.

so I guess this is another thread I''ve started asking PS ladies to please just tell me to get over myself. (be as mean as you want, honestly.) It is MUCH more important to me to be a good friend than to do have another party for myself (I''m really not that self-indulgent, I swear), and I just want to not feel sad about it.