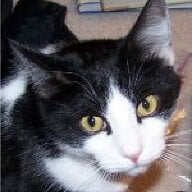 Joined

Feb 8, 2003
Messages

15,880
My kids' school has this policy and we live in an area with higher income and tax brackets and less than 5% qualify for free lunch. They're not just singling out parents who cannot afford, they're just trying to remind parents to keep track of the balance on their child(rens) lunch card since most parents here do have the resources to feed their children.
Like Kimberly brought up, our district uses the debit card system and tracks the balances. My kids
only
get hot lunches on Friday, as a treat, and even when we go into the negative (as I never remember to pay until they remind me and the balance will be -$2.25), my kids have ALWAYS gotten a regular hot lunch, not a cheese sandwich AND I pay when they send the reminder note home.
I think the story only applies to extreme cases where the negative balances reach high amounts. It's sad and unfortunate, but the schools are trying the best that they can to make sure kids don't go hungry and they're not because a cheese sandwich fills their tummies.
Most importantly
: bringing lunches from home is SO much cheaper than hot lunches. . .A bag of bagels is only $2.00. I do not understand why a parent would purchase hot lunches with their own $ when they could feed their kids for three times as many days on food from the grocery store.
My kids bring water as a drink in their lunch and that is FREE