Ive decided my summer project is going to be a relatively significant one. I usually have one monthly project, which is a smallish exercise, and a proper long term one on the go (taking months not weeks). This is something in the middle.
Amongst my shamefully profligate jewellery collection I do not own a pair of simple diamond claw set studs. I would like to get a small, well cut, classic pair - less than 1ct total weight which I can wear daily.
But that would be boring. On its own. So I want to also get detachable drops made to enhance them (and eventually jackets). But if I'm going to the expense of detachables and jackets to fit I need to know I'm not going to change the studs. So I haven't moved forward to date because I keep changing my mind about what size, colour, clarity, to go for ACAs or just triple Ex etc.
In the meantime....
I "accidentally" bought a yellow sapphire thinking it was unheated when it wasn't (I should have known by the v low price of it!). Then I didn't know what to do with it because my sapphire bracelet is all unheated stones - and it was a spready cut with an inevitable window. So I had it set simply and classically with a yellow gold basket to close the window, thinking I might put it on Loupe Troupe.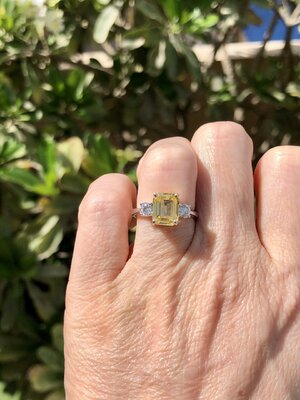 Fast forward another month....
I bought these unheated yellow pair because they just seemed like such a perfect match (and I shouldn't browse IG when I drink wine!).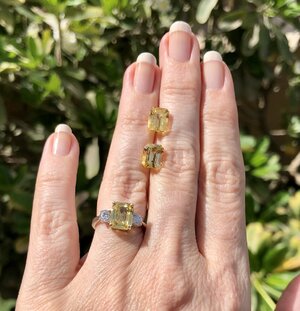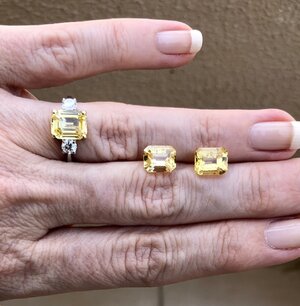 So...
Next project - simple diamond studs - maybe 0.5 carat each stone - GIA Ex Ex Ex, VS clarity and F or G colour (search to commence) and detachable yellow sapphire drops which I can wear with this little ring.
I like this style - but with only two diamonds not three.