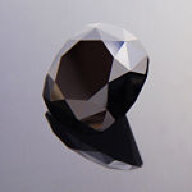 Joined

Jun 2, 2011
Messages

54
Hi, everyone- I am so glad to have found this site! I have always loved colored gems, but unfortunately I'm not very knowledgable about them.
SO and I have a variety of stones in various settings (he's from the Middle East and has some stuff from his family), so when thinking about engagement rings, I was really hoping to get something different for the center stone. At first, I was thinking of an aquamarine, as I have an oval ring, a pair of triangle earrings and a trillion pendant in aqua...but then, after looking at this site for a while I realize that that might not be a good choice as aquas don't seem to be good for everyday wear and the fact that there don't seem to be an overabundance of them in nice shades. All of the other aquamarines I've bought are from local chain jewelers and are exactly what you all have talked about- grey and glassy. So maybe you all could help me find something that might stand up better and have a better color?
What I know that I want is a cushion cut that is square (meaning that the mm is the same length and width), blue-green in color, and somewhere around 8-12mm, maybe? I'm open to the size/carats, and the actual cut (I've seen some that are more rounded and some that are more squared off)- I'm more interested in getting the right color and shape. I have some settings in mind, but those are still open as well. Could you all help me, please?
Like I said, I am very new at this, so I don't really know the difference between, say, heated and unheated, etc. I've heard the terms, but I really don't know which is better. Also, there are so many differences in price that I'm weary about buying when one stone is $15.00 and another that looks the same is $1200.00. How do I know what to look for?
TIA, everyone! I really appreciate it!!

Kristi