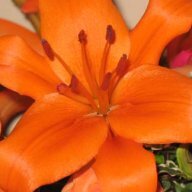 Joined

Dec 9, 2006
Messages

36
Hello all. New to the forum (first post) and needing some advice/opinions on planning a small wedding for immidiate family and a few best friends. 25 or so people.
This will be a very non-traditional wedding. No wedding party and I dont want to walk down the isle. lol (i''m a tomboy and i''d rather NOT have a wedding but he wants one. lol)
I have a friend who''ll make our cake. Another friend who is an attorny can be appointed judge for a day and marry us. I have a dres. no pics yet. (black and white-mostly black and in a satin material. very beautiful and i''ll post pics at a later date.
So I am thinking the them will be of course black and white. He''ll wear a black tux w/ a white tie. Simple! My flowers will be black and white.
(need suggestion on what would be the best flowers to use?? Roses maybe???)
We may plan this outdoors at a local park. We are also in the process of looking for places to rent that are reasonable.
After the wedding we will have a party that we''ll send invites for. approx 100 people (any suggestions on what we should do would be great. ie: buffet style, picinic etc etc.)
what do you all think? for the record, we are not gothic. lol (nothing wrong w/ that). i just wanted to make that clear since my dress is black and that was the first thing my mother asked, "you having a gothic wedding?" lol
THANKS!