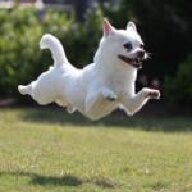 Joined

Jan 21, 2011
Messages

199
Hi all,
So, about 6 weeks ago, I made a post about feeling uneasy with my 3 stone oval ER. Originally, I was told by the jeweler they would match my center - 1.07 ct G VS1 with .25-.30 ct G VS2. Well, after a month or so, I finally received my ring. The sides were smaller than expected and they were G and H SI1. (I clearly noticed the warmth of the H.) They apologized and promptly replaced the sides with the correct ct. size. It looked much better. However, when I took it to the independent appraiser, he said my sides were F and H SI2. Again, I noticed the H displayed a warm tone compared to my center. I will say none of my friends could tell - even my supposed color sensitive friend that has a HUGE D VVS marquise. At times, it was easily seen by my squinty eyes and others not so much. Anyway, after talking with the jeweler, he explained the trouble with finding matching ovals. Another challenge was that my G center was extremely white. (He swears if it were regraded, it would be an F.) So finding a pair that looked good with the center wasn't easy. He continued to say at this point, I needed to consider certified sides. He said this is the only guaranteed way of knowing what the side stones are.
So the hunt began...At first, I tried to stick to F/G sides but had absolutely no luck finding matching pairs. I'd find one but nothing with the same proportions to match. I then moved to E/F and again nothing. My jeweler started searching higher clarity such as VVS1 but even then I'd find one I liked but nothing matched it. Finally, my jeweler suggested .29 ct D and E SI1 which happened to have almost identical proportions. I was really skeptical since my center is a G so he had the sides shipped in for evaluation. He emailed me to say that he was happy with their appearance and felt the color difference would not be discernible. They shipped all 3 stones to me for approval. I was bracing myself for there to be an obvious difference but was surprised. I can tell the D is a bit brighter than my center but very little. I have to concentrate on it for a while. I'm actually a bit shocked because I figured D-G would be OMG noticeable. Anyway, I showed 2 of my co workers - 1 couldn't tell at all and the other said the D seemed a bit brigher and the E seemed a bit yellower than my center. However, he said that's with a fair amount of staring. My FH said he thought the D and G looked the same at first but then said all three looked the same the next day.
Anyway, I took a couple of pics for you to see. I know it's hard to tell in photos and the lighting isn't necessarily the best.
PS: I'm also having a new setting built because I was unhappy with the original. I've posted the renderings. Let me know what you think about the stones and the setting. Thank you all in advance. You guys have been so helpful.