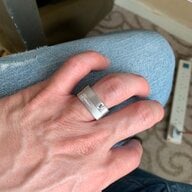 Joined

Sep 11, 2012
Messages

3,283
There are amazing design/ sets that you have made.

My eye / aesthetic goes for the normal (east west?) setting, and not the kite setting.

I love the tension setting, as it shows of the stone really well.

however, I am a little clumsy with rings- i drop things between the csr seat and centre consol, and I try and get it out. I know I should take my ring off before I go searching, but am lazy. I also take my rings off several times a day cos of work. And I have been known to drop my rings onto carpet. As such, I feel that the tension setting isn't quite for me.

I suspect others might say that the tension setting is solid enough that it can withstand those kinds of every day workload/ mishaps. But I am in Australian and sending it back to USA to have it checked each time gets $$.

Yes there are vendors that have tension setting, but they do not set outside stones.

I do like the grooves in the band, too. It adds depth and unique- ness to the band. And the kite set is also different.

Brushed finish is also my preference- cos I am clumsy.

But, you have seen the stone kite set and you love it, which is the most important. You want to look at your ring and go- yeah!!! I did this and I love it, still, 10yrs from now.

Aesthetics changes, sure. And with that, a reset may be what is needed.

The most important thing is that you love the result of what you make. So, take the time to understand what you like and don't like…. Absorb snd ask as many questions of us.

8mm band, kite set and groove on band. Those are what I understand you really like so far.

Keep going with drawings/ photoshop to finalise the likes and dislikes.

I love seeing this all unfold.
Last edited: