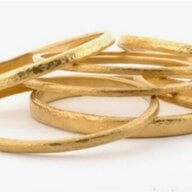 Joined

Jan 26, 2003
Messages

22,108
Leonid,

I am not sure of where the best place to catch your eye is, but I believe you promised us a forum to discuss jewelry?

I know I could post a thread on a piece of jewelry anywhere, but I am not sure where to do it!

As I may have said elsewhere, I have a charm bracelet and so does my daughter. I am always looking for charms for them.

I also like to look at vintage charm bracelets for sale on ebay.

Would you like to start a new forum or should I talk about this here or in Diamond Hangout? There really aren''t any diamonds involved in *my* charm bracelets, although I have seen some charms featuring diamonds, emeralds, rubies, and sapphires. (Given my interest in dogs I have seen these stones most often as options for a dog''s eyes or optional decoration on a dog''s collar.)

I should mention that I am also interested in charms made in 18 karat, 22 karat, or 24 karat gold. I usually see the latter two only on Asian websites.