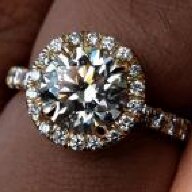 Joined

Feb 19, 2016
Messages

18
So after silently lurking on and off for a while I've decided to finally make an account. Thought I'd start off by sharing by gorgeous engagement ring!
I've been engaged for 8 months but I still find myself staring at her every day and feeling oh-so-lucky.
The diamond is GIA 1.7something ct/XXX/K/SI1 (totally eye clean) Hearts and Arrows. I'm so in love with the warmth!!! I always thought "higher color grade = better diamond" but once we started looking at rings I came to realize that I liked warmer stones better for all their depth and color changes. FI insisted on only one thing, that the ring be YG, and that just made me want a warmer stone even more. We found the perfect diamond at Jangmi Jewelers in NYC's diamond district. We initially had her set in a pave 4 prong "solitaire" but something was just...missing.
That's when lurking through these boards helped me decide on a halo reset and I couldn't be happier! When we were shopping before I had thought that I couldn't get a halo because they were chunky and wedding bands wouldn't fit under them but the internet helped me realize that those were only certain kinds of halos I had seen in shops. Once I realized that halos can be very practical and dainty if designed that way - we were on our way! FI and I designed the new setting together, keeping all the old diamonds including those from the pave shank and now I have my perfect dainty halo! Ken and Dana were a dream to work with and their craftsmanship was absolutely impeccable as always.
Here are some pictures! When my FI saw her he said she was, "classy but with a touch of glam - just like you!"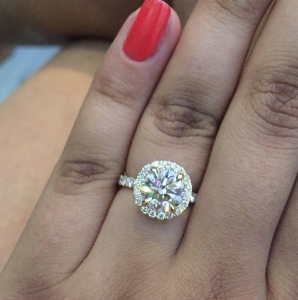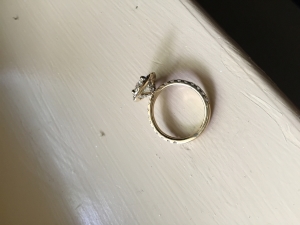 Here's my favorite picture ever! I just love it when she picks up all the colors around her and throws them back at me.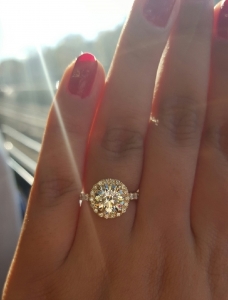 Just for fun, here are some "before" pictures in the original setting.