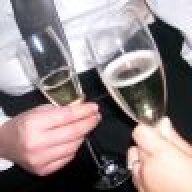 Joined

Jun 24, 2008
Messages

535
Hi ladies!
As you know I am all over the place with this gown thing (SUPER indecisive!). My friend/designer/fashion mentor has come up with another round of sketches for me to peruse. I have an initial consultation meeting with the dressmaker on May 4th, where I am supposed to bring everything that inspires me. I am nervous!
I am still loving the one-shoulder look (doesn''t bother me that it will look "dated") but some of the others she has done with two straps are so cool and unique!
She had this idea for a removable train (see the pics with the belt and fabric thing). We have no idea how this will translate to real life, but I thought it was a nifty idea.
My style is pretty simple. No beading or embroidery or lace for me, just beautiful fabric and a nice, unique cut.
Anyway, I''m just putting these out to the PS world for input/comments, etc. Are there any that stand out to you? What do you like? Any ideas for developing these further? Thanks for taking a look!
First one: