Long-time reader, first-time poster here! I'd like to express my gratitude to all the members of this forum for sharing a wealth of gem-related information here on a daily basis. Over the years, I've frequented this forum while expanding my own modest gem and jewelry collection. I've even made purchases from some of the members on LT. The shared information has been incredibly helpful to consumers like myself, often providing insights not available elsewhere.
Have you noticed the recent surge in gemstone auctions on Instagram and individual seller's websites? Previously, platforms like eBay and a few others offered avenues for gem vendors to sell their products through auction-like formats. These platforms have always attracted a mix of sellers, primarily from gemstone centers in Asia. However, I've recently observed a growing number of US-based gemstone vendors conducting their own auctions on Instagram and their personal websites. For instance, a gem cutter I like, from whom I've purchased several custom gems, now primarily engages in weekly Instagram auctions, reselling "native" cut gems or stones faceted by others. While I won't mention them by name, there are many other examples. It's obviously perfectly acceptable for dealers/cutters to expand or pivot their businesses from one format to another to boost sales or for other reasons. However, there's a common factor in all these auctions that I find potentially misleading. They typically feature a brief description, photos or videos, and an "
estimated value
" of gems offered for auction. Upon observing these auctions, it's almost always the case that the final bidding price is significantly lower—three, four, or even five times less—than the estimated value. The auction "winners" may feel they've snagged a fantastic deal by acquiring a gem for a fraction of the listed price. However, it's naive to assume that gem re-sellers are losing money, given that these auctions continue week after week. We all know it is difficult to value a gem, but in my opinion the quality of the auction gems fall significantly short from the value estimates assigned by the sellers.
Here's an interesting and illustrative example I noticed involving a long-standing and reputable rough vendor who has also jumped on the auction bandwagon. I've been searching for a cobalt blue spinel from a recent Mahenge, TZ find and came across an auction on Instagram for a "Top Quality Cobalt Blue Mahenge Spinel." The accompanying description was radiant, including phrases like "an absolute top gemstone in every way" and "color of a clear blue sky on a warm spring day." The estimated value for a 1.055ct stone was stated as $3,500-3,750. The description and estimated price suggested a top-quality cobalt blue spinel, similar to the neon Luc Yen material also found in Mahenge. Coming from a supposedly reputable US-based rough and gem dealer, this might seem like a confident stamp of approval. No certificate was provided, and there was no mention of any treatments, although it's known that nickel diffusion treatment exists for this material (as discussed in another thread and perhaps in Yuvonne's blog). However, the gem appeared dark even under studio lights, had a grayish modifier, and didn't resemble the top neon cobalt-blue material to me. Nevertheless, it was priced as if it were top-tier material. The auction concluded at around $600, which is more than five times lower than the lower end of the estimated range. Here is a screenshot of the Instagram auction for reference.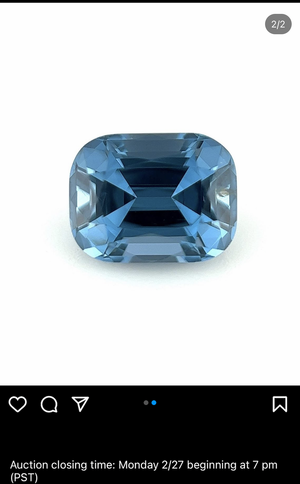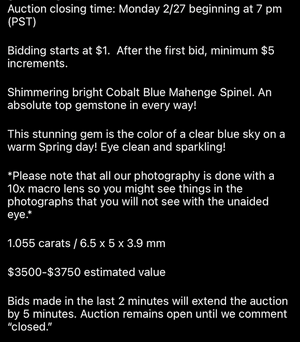 To my surprise, I came across the same exact gem (1.055ct) on the seller's website auction a few weeks later. I'm unsure if the winner of the previous (Instagram) auction didn't pay or returned the stone, or for any other reason, but there it was, listed again. I took another screenshot, which showcases the same images and similar high praises, including statements like "This gem is all the rage in spinel, and it's easy to see why!" and "Found in extremely limited quantities!" In is notable that the estimated value this time around was $1,500-1,600. This is three times lower than the value assigned to the gem by the same (super reputable) seller just a few weeks earlier on their own Instagram auction! Why such drop in estimated price if the seller is so reputable and highly versed in all thigs gems and pricing? Once again, the gem sold for approximately $500, which is three times lower than the "revised" estimate or more than six to seven times (!) lower than the original estimated value on Instagram.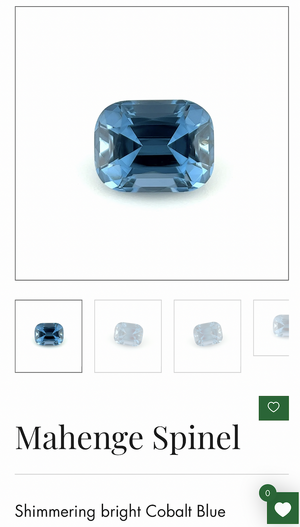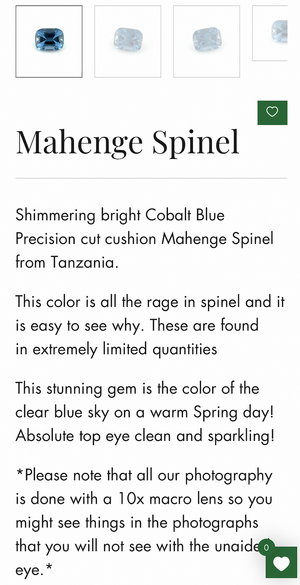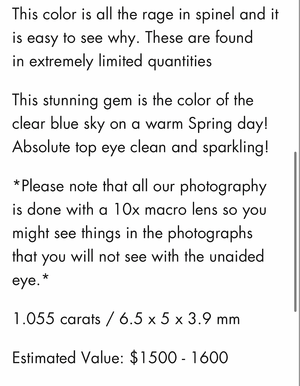 Members of this forum are well aware that gem dealers often purchase stones in bulk from overseas and resell them with markups of 10 or even 20 times the purchase price, without much additional effort aside from taking photos. Obviously this experienced vendor did not suffer any financial loss from the auction, or they wouldn't still be in business. However, I'm uncertain if the winner got a good deal. With the proliferation of easy access to social media auctions, where it's simple to post captivating images under studio lights on the screens of thousands of people, many inexperienced individuals might be buying overpriced, low-quality gems while mistakenly believing they've got a steal at an auction. I'm curious to hear your thoughts, and my apologies for the lengthy first post!