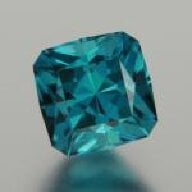 Joined

Jan 18, 2008
Messages

9,758
It's just a lil one, sorry if I got anyone excited, lol..

So I bought this lil guy, advertised as mine cut, 0.37ct , K-L, 4.3mm..
I've yet to go to my jeweller to confirm the size, but the first thing thats jumped out is the colour - I doubt it is K-L, imho more likely P-R..maybe lower? This is solely a guess..
It didn't have a clarity grade but it appears very clean to me - I guess VS.

The faceting is very pretty, and it has a strong kozibe effect..but in most lighting it does have quite a light lemon yellow colour.
So should I keep it if the colour comes back much lower? I have tried to choose pics that represent the colour, instead of just glamour shots, lol..
Also in one spot, it has what I can only describe as an indent or flat spot on the girdle when viewed face up - is this what an "indented natural" is..? It doesn't appear to be damaged at all, including in this spot..
tia!
In this pic, that bit on the girdle is at about 5 o'clock..
Hrmm..actually thats something I just spotted after posting the pics - those 4 small dots from about 11 to 12 o'clock - they're not noticeable IRL. Any ideas? Are they abrasions or something..?