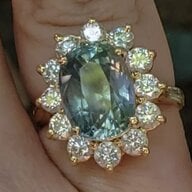 Joined

Jun 14, 2018
Messages

1,461
It was 11 pm, 2 glasses of wine in, hubby snoring. My phone notified that an ebay listing I was watching had 15 minutes left. I noticed that the current bid was the same as it had been for days, so why not. These items always go up like crazy in the last minute or so. I entered a bid- "You are the current high bidder". It stayed that way until it said You won.
This was a completely unplanned purchase. I have 2 projects currently rolling, and also hunting for a pink sapphire or spinel. But here I am, new owner of a blue sapphire ring.
Stats- 3.2 ct GIA heated sapphire with 2.0 cts diamonds in a heavy 15 gram platinum setting. It's a little bit Dynasty, but I kinda love that about it! It isn't the top shade of blue, but has zero gray or violet modifier so can completely tick the "blue sapphire" box that my pastel blue and my avatar sapphire doesn't. I can't seem to capture the same shade my eye sees though. To me it's gorgeous. I'm a happy camper!
Now to show hubby because he assumed when I said I have a package it was one of my projects completed