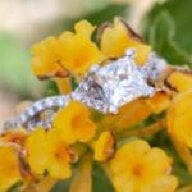 Joined

Mar 25, 2011
Messages

247
Hello ladies! I am recently engaged (

!) and in spite of how busy I am at the moment, I can't help but start thinking about the wedding! We're tentatively calling it for September 1, 2012, but that may be pushed later depending on the venue we decide upon.
My fiance and I live in AZ, but are actually from NY, therefore the majority of my family and friends are all back East. I want to include my Mom and future MIL in the dress shopping, which means that I will have to wait until mid-July or later to start shopping (which realistically isn't very long at all). However, did any of you do any "preliminary" shopping by yourself or with a friend? One of my bridesmaids will be in town soon and we were thinking of going to a local shop to try on a few dresses to get a sense for what I like.
So, how many of you shopped by yourself or with a friend before the actual "official" shopping? Did you accidentally find your dress too soon, or was it good to get a sense of what you were looking for? Am I just incredibly impatient?