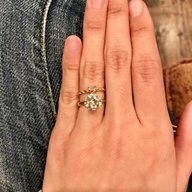 Joined

Mar 6, 2018
Messages

5
Hello ladies <3
My SO and I will be hitting 3 years in a few months, finishing our professional programs and starting our careers, and moving in together. We've had the commitment talks, and while it seems promising, a ring probably won't happen until at least next fall. I come here to daydream about the future, though, and it's always lovely reading through all the threads. I've been passed down an heirloom diamond (is it an heirloom if it's from a necklace?) and after discovering pricescope, am becoming so eager to have it put in a custom setting.
My mom says she thiiinks it's a RB 2.0-2.10 carat, VS1, F/G, Ideal cut, but that she's been sitting on it so long that she can't remember and doesn't know where the cert is. Mind you, the lights in the room I took the photo in make everything look extremely yellow, even when I tried to fiddle with the cast of the photo. I'm thinking platinum split claw prongs set on sort of a deeper colored 18k yellow gold (if I can find it/convey what I'm thinking of- something that looks old without having a dramatic tarnishing treatment of any variety) with a delicate tapered band (Inspo:
https://www.melaniecasey.com/collections/engagement-rings/products/ladys-slipper-ring-1ct-diamond
) set with just a few smaller stones.
I'm hoping that since I'll be contributing the center stone (primary expense), my BF would be okay with indulging my desire to have my ering be part of a stacking set with CvB's afterglow stack. I'm kind of hoping I can pull together an aesthetic that reminds me of Greek mythological stories. I know that this will all by a while coming, but I'm hoping if I can word vomit my daydreams here I'll be able to keep my composure together until it's time.