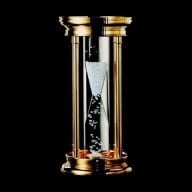 Joined

Nov 6, 2006
Messages

2,398
Hi Gang. I thought this might be a useful reference: (from AGS)
There are three categories in the new AGS Cut Grading System —
Light Performance, Proportions,
and
Finish
. Within these categories are
eleven factors:
Light Performance:
Brightness, Dispersion, Leakage, Contrast
Proportions:
Durability, Tilt, Weight Ratio, Girdle Thickness, Culet Size
Finish:
Polish, Symmetry
DEFINITIONS:
Brightness:
The amount of white light returned to the observer.
Brilliance:
Brightness with positive contrast effects.
Contrast:
The light and dark patterns seen when observing a diamond. It can produce a positive or negative optical effect. This usually is caused by, but not limited to, the observer's head.
Dispersion:
The separation of white light into spectral colors.
Durability:
The diamond's resistance to chipping or breaking.
Leakage:
Areas that do not return light.
Scintillation:
The combination of white and colored sparkles seen as the diamond and/or the observer and/or the light source(s) move.
Tilt:
The point at which the girdle reflects under the table of the diamond and is defined by the minimum pavilion angle allowed for each table size.
Weight Ratio:
The millimeter footprint of a diamond versus its weight.
The AGS Performance Grading Software objectively measures and evaluates nine of the eleven grading factors. The remaining two — Polish and Symmetry — must be evaluated by a diamond grader.
The AGS ASET provides a quick and easy — yet sophisticated — way to assess a diamond's interaction with light.
The name ASET stands for Angular Spectrum Evaluation Tool,
and the device was developed to be used with the performance-based American Gem Society Diamond Cut Grading System.
from:
www.americangemsociety.org