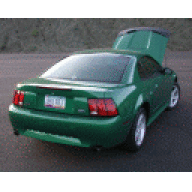 Joined

Oct 17, 2002
Messages

84
I am really nervous about buying a stone online. I had initially wanted to get the stone from Jonathan at
Good Old Gold
, or from Barry at SuperbCert, for the main reason that they had pics of the diamond online as well as the brilliancescope reports. The brilliancescope reports are very important to me, as I have seen stones with the same HCA score drastically different on the BS. Ideally, I''d want an H&A, AGS0, HCA <= 2 stone with great BS reports.
Anyhow, I have found a stone from Jonathan that is perfect. It has a great BS report, but the stone is a D color, VS2 clarity, and is a bit pricey. I found another stone from
niceice.com
that is about 25% cheaper (it''s a G/VS2). The Jonathan stone scores a 1.2 on HCA, but has an absolutely stunning BS report. The niceice stone scores a 0.6 on the HCA, has many pics and the cert online, but has no BS report.
Should I take the chance and go with the cheaper niceice stone, hoping that it is as good as the
goodoldgold
stone, or should I pay the premium to get the BS report as well as the D color? I am confused, please help!
Specs on the niceice stone are:
60.9% total depth
56.0% table
34.4 crown angle
40.6 pavilion angle
0.2% culet
1.9% girdle (sl. thick)
Specs on the
goodoldgold
stone are:
60.9% total depth
56.0% table
34.2 crown angle
40.9 pavilion angle
0.3% culet
0.7-1.5% girdle (thin)