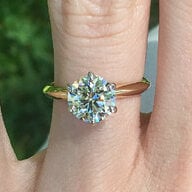 Joined

Jan 21, 2018
Messages

76
Dearest ladies (and gents) of PS who have a few more years under their belts than I do...
Have you upgraded your original diamond, the one that you were "proposed-to" with?
If so, were/are you happy with your decision to do so? If not, why not?
My dearest and I have an opportunity to upgrade my CBI diamond for practically free thanks to their new price restructuring. Same color/clarity, but larger spread/ct weight for almost no money. Can be used with my existing setting no problem.
When we first saw this it was a no-brainer for us- of course we would do it! It's easily what he would have chosen to purchase at the time given our budget, if the pricing was the same back then. But today came the day when I was planning to pack up my engagement ring and send it off to Wink's incredible team... and I got all emotional. It was *the* diamond! We knew we would probably upgrade eventually (maybe even multiple times) and that's one of the huge reasons we chose HPD in the first place. But now that it's time to send it in, I don't know if I can!
I'd love to hear your thoughts... Are you happy you kept your original e-ring diamond? Do you wish that you did? Am I silly for feeling this way?
Keeping the current diamond and buying an additional larger (2-2.5 ct) diamond in the future would have to be waaay down the road... decades... after kids are born and raised, colleges and weddings are paid for, and we are very comfortable financially. The only way to do bigger now would be with incremental upgrades and trade *the* proposal diamond. But should we?
Would love any advice and wisdom you wish to share. "Mom" opinions are welcome, I'm asking for it.
Thank you so much!
Last edited: