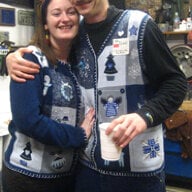 Joined

Jun 27, 2008
Messages

3,899
May I vent* for a moment?
Why is it, that everyone I work with, can show up late, not do their job, not show up, with out retribution, but if I sneeze funny, then I get in trouble?
Here are some examples of why I nearly walked out… (and yes, I am pms'ing!!)
One guy continuously calls in sick, does not work, complains when it gets "busy" (putting in two orders at once) and even uses his daughter as excuses to get out of work. OH, and mentioned he hopes to get laid off. Trust me buddy, fired is more like it.
Two ladies cannot make in on time to save their life. And when you work in a call center, and your breaks are dependent to people arriving on time, it's a huge PITA! And really, they are only 5-10 minutes late, but you cannot just leave 5-10 earlier??? Plus by the time they long I mean common, I get to work at 3:30 every morning!! It's not that hard.
Not to mention one of the "leads" cannot make it on time to save her life either. And she just got a raise?!? Oh, and I used to have her job (I left the company for a couple years) and trust me, its not THAT hard, and does not deserve a raise.
And lastly, my dept head emails me every.little.thing. I do wrong. And when I review her work? Well it's like she just started the company and doesn't know her left from right. But of course, I cant say anything. And the one tiny thing I'll forget to do, she does consistently on her work.
Phew. Wow. That vent made me feel better… until I heard that subway is no longer doing the $5 for all their footlong sammiches. NOOOOOOO!!

*disclaimer. I am very happy to have a job, when I know many do not (including my family!). In fact, I have two. But I am hoping that the part-time turns into full time. Until then, I have to stick it out with the job described above