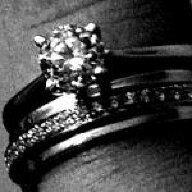 Joined

May 5, 2011
Messages

8
My fiance proposed on May 1st and I am wondering if I could get some perspective on my e-ring?
I picked out (I insisted on coming along to choose, no nasty surprises for me on something this expensive!

) a round cut 0.4carat F VS2 GIA XXX.
I loved the ring to bits as I can't really sport anything too big (I have tiny hands/feet and have to shop for gloves & shoes in the children's department

) and I thought that my ring was perfect!
I just recently found out that my diamond's HCA score is only 3.6 and I was told that any diamond worth its salt has to be below 2.0.
I am crushed. I have not been on this forum for very long but I would appreciate some opinions from all the diamond-minded people here if I should look again for a diamond with better HCA scores.